New Species: Crocus!

Submitted by
Bruce Liebknecht
on Tue, 02/08/2022 - 23:40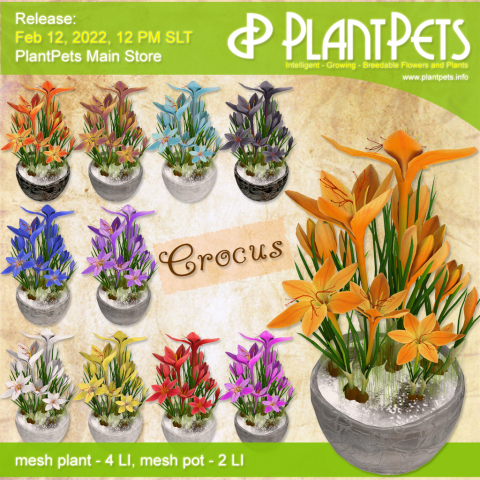 We are very happy to announce that this Saturday at 12 pm SLT we are releasing a brand new PlantPets species Crocus! This beautifully designed saffron crocus plant is only 4 LI plus 2 LI for the pot it comes with. We will have seven common and four rare crocus plantpets, one of which is a rare elite.
The crocus plantpet is built by Monellis who is a well-known PlantPets breeder. This is her first work as a plantpet builder and it is rather impressive!
The release event is taking place this Saturday, Feb 12, from 12 to 1 pm SLT in the PlantPets Main Store:
http://maps.secondlife.com/secondlife/Koala%20dAlliez/135/194/23
On Sunday, Feb 13, to celebrate the new release and the upcoming Valentine's day we hold a "Best in Hearts" party at Stella Polaris with the wonderful Italian singer Francesco Friedman performing live from 10 am to 12 pm SLT and we will continue partying until 1 pm. There will be a contest for best dressed (in hearts!) avatar and for three hours we will be running a free raffle that will give away Valentine-themed and crocus PlantPets seeds! The venue of the party is http://maps.secondlife.com/secondlife/Suomi%20Finland%20South/143/50/22.