Rarities Mission and a Month-Long Raffle!

Submitted by
Bruce Liebknecht
on Sat, 08/01/2015 - 20:01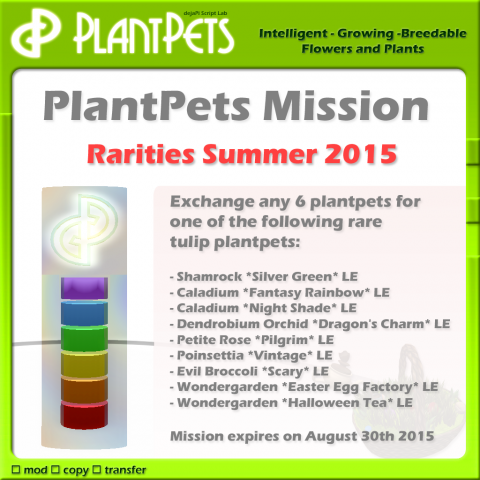 In response to many requests we have released a new mission that exchanges any 6 plantpets for one of the following nine limited-edition plantpets:
- Shamrock *Silver Green* LE
- Caladium *Fantasy Rainbow* LE
- Caladium *Night Shade* LE
- Dendrobium Orchid *Dragon's Charm* LE
- Petite Rose *Pilgrim* LE
- Poinsettia *Vintage* LE
- Evil Broccoli *Scary* LE
- Wondergarden *Easter Egg Factory* LE
- Wondergarden *Halloween Tea* LE
The mission is available to purchase at the PlantPets Main Store only until the 22nd of August 2015! The deadline for completing the mission is the 30th of August 2015! An avatar may complete an unlimited number of missions.
Moreover, the PlantPets Main Store is holding a free entry raffle for the entire duration of the month of August. The raffle will pick a winner every 17 hours until the 31st of August. To enter the raffle an avatar only needs to be in the PlantPets Main Store at the moment of picking a winner. The raffle scans the PlantPets Main Store every 17 hours and randomly picks one of the currently present avatars. The award is a plantpet seed, randomly chosen from the nine limited editions included in the mission plus some rare tulips and a few other plantpets.