Easter Egg Factory LE

Submitted by
Bruce Liebknecht
on Sat, 04/19/2014 - 21:16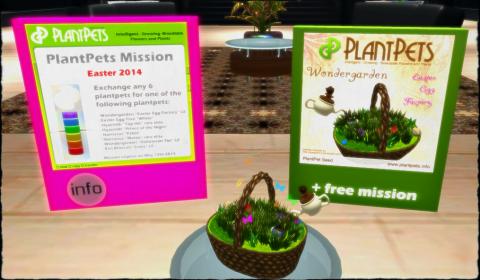 Today we released the limited edition plantpet Easter Egg Factory! It belongs to the species Wondergarden but it has the same genes as our Easter Egg Tree. That is, its baby seeds will be among the plantpets with the Spring gene. The included particle effect of rainbow coloured butterflies makes use of clipart textures created by http://jassy2012.deviantart.com.
The Easter Egg Factory Wondergarden is 76 temp prims at its final stage of growth, which makes it much more economic in terms of temp prims compared to the other Wondergarden plantpets.
Together with the limited edition we release an Easter mission. The PlantPets Mission Easter 2014 creates an opportunity for our most dedicated customers to exchange ANY 6 plantpets for ONLY one of the following plantpets:
- Wondergarden *Easter Egg Factory* LE
- Easter Egg Tree *White*
- Hyacinth *Top Hit* rare elite
- Hyacinth *Prince of the Night*
- Narcissus *Fabio*
- Narcissus *Mateo* rare elite
- Wondergarden *Halloween Tea* LE
- Evil Broccoli *Scary* LE
The deadline for completing the mission is the 19th of May. The limited edition will be sold separately only for 1 week, while the mission will be available for purchase until the 12th of May.
Happy Easter!