Caladium: Release and a Free Raffle!

Submitted by
Bruce Liebknecht
on Mon, 12/02/2013 - 15:57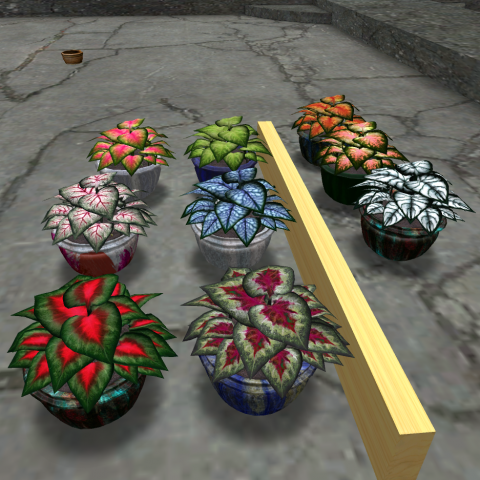 We are very excited to announce that today we are releasing 11 beautiful Caladium PlantPets. They were built by Roxy Bergiere who also decorated the PlantPets kiosk at the RFL Christmas Expo 2013 which started yesterday (more about the expo later).
Today at 2 pm SLT we will run three vendors in the PlantPets Main Store. The first one will sell the 6 common caladium plantpets: Alien, Bombshell Red, Faded Lime, Pink Gem, Moonglow and White Queen. The other three vendors will sell the seasonal White Christmas, the rare Pink Splash and the rare elite Sunburst Orange, respectively. The common and the seasonal Christmas plant will be 20% off for members of PlantPets Premium for the first 24h of the release and 10% off afterwards. The two rare ones will be 10% off for group members. The two rare ones will stay in the shop for 1 week only until the 9th of December. The seasonal White Christmas will remain in the shop until Christmas.
We will launch the caladium plantpets with a free raffle! Every 10 min the raffle will pick an avatar within 50 m from the caladium vendors and give them one of the 9 caladiums which are available for purchase.
In addition to those 9 caladiums, we are releasing two more caladiums: Fantasy Rainbow and Hope. Fantasy Rainbow is a limited edition exclusively sold at the RFL Christmas Expo. Our kiosk where you can purchase by donating to RFL is at http://maps.secondlife.com/secondlife/Christmas%20Breedables%201/187/89/24.
The Hope caladium is rare and won't be sold directly by PlantPets. It will come as a rare baby seed of other plantpets and can be eventually later found in breeders' shops. We will make also one-of-a-kind version of Hope which will come with a special mission especially for the RFL Breedables auction which will take place on Sunday, Dec 8.
All caladium plantpets are listed in our online catalog at http://plantpets.dejapi.com/?q=catalog&species=Caladium.