Love Is In The Air @ The PlantPets Main Store!

Submitted by
Bruce Liebknecht
on Tue, 01/22/2013 - 19:45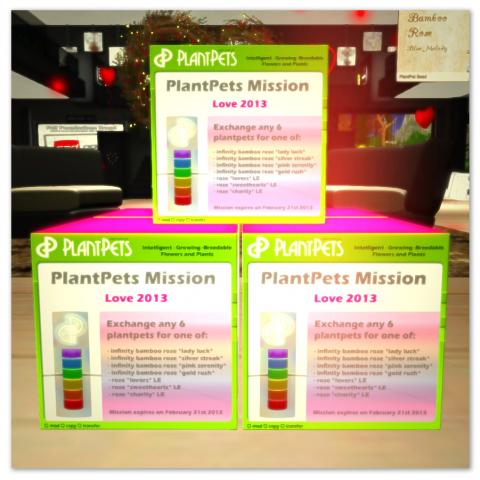 Today we released seven new Infinity Bamboo Roses: Pink Champagne, Blue Melody, Lady Luck, Pink Serenity, Silver Streak, Purple Royale and Gold Rush. The same colour varieties have existed in the climbing rose collection and now we are adding them to the infinity bamboo rose collection as well. Blue Melody, Pink Champagne and Purple Royale are released as common and the other four are rare.
The common ones can be found in two vendors, one at the entrance of the PlantPets Main Store and the other in the Featured PlantPets area. The vendor at the entrance also contains the seasonal yellow and orange infinity and climbing roses.
All roses in the two vendors will be 20% off for member of the group PlantPets Premium until the early morning on the 24th of February and 10% off after that.
Together with the new roses we are releasing a free PlantPets Love Mission! The mission exchanges any six plantpets for one of the following plantpets. The four new rare Infinity Bamboo Roses: Lady Luck, Silver Streak, Pink Serenity and Gold Rush and the three limited edition roses: Lovers, Sweethearts, Charity. Lovers and Sweethearts are our first and all-time popular LE roses; Charity was released last December especially for the RFL Christmas Expo and now we give a chance to those who did not manage to get a copy at the expo to complete their rose collection. The mission will be available to get until the 15th of February. The deadline for completing the mission is the 21st of February 2013.