PlantPets at SL Christmas Expo 2012

Submitted by
Bruce Liebknecht
on Fri, 12/07/2012 - 12:54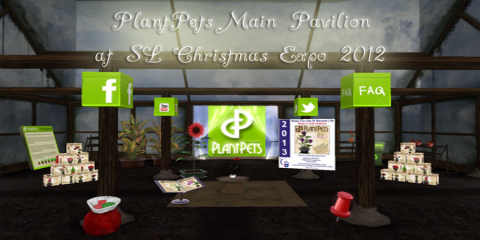 This year PlantPets is a platinum sponsor of the SL Christmas Expo in support of RFL, which takes place from the 6th to the 19th of December on a group of 5 regions in SL.
PlantPets has two pavilions at the expo at the following locations: Main pavilion in Expo Region 4 and a Second pavilion in Expo Region 5.
The greenhouses in both pavilions were designed by Hernesto Kayo especially for the presentation of PlantPets. We would like to give big thanks to Pixel Ghost for her invaluable help in the decoration of our main pavilion!
Especially for the expo, we are releasing two new roses and a dendrobium orchid: limited edition Rose *Charity* LE, rare Rose *Simply Marvelous*, and rare/one-of-a-kind Dendrobium Orchid *Maestro*.
Rose *Charity* is a limited edition and can be purchased ONLY from the RFL vendors in the PlantPets pavilions during the event. All money from the sales go to RFL. This rose is released exclusively for the expo and PlantPets will never sell it in the PlantPets Main store. We may only include it as a mission award in the future. PlantPet Breeders are free to resell the seeds of this rose as they wish.
Rose *Simply Marvelous* is a rare rose which is the "Nice" award every avatar may get from the "Naughty Or Nice" Santa's sack in our main pavilion. When you touch Santa's sack you will receive a message in local chat that you've been either naughty or nice. If Santa says you've been "Naughty" you will be presented with a "Naughty" present. If a person has been placed on Santa's Naughty List, they can return in four hours to try again, and see if Santa has changed his mind. Eventually, you may be told that Santa thinks you've been very good indeed, and you will be presented with your "Nice" present. Each person who participates will only receive the Nice present once. One "Nice" present per avatar. Rose *Simply Marvelous* is our "Nice" present and our "Naughty" award is a box that contains a non-breedable version of Rose *Cherry Parfait" and a set of broccoli themed necklaces.
Dendrobium Orchid *Maestro* is the PlantPets one of a kind offering for the breedables' fundraiser auction that will take place on the 15th of December at 2 pm. There will be silent bidding on the items via bidbox open all day on the 14th, and the live bidding will open at the highest bid on the bidbox.

Dendrobium Orchid *Maestro* is a rare single-stem dendrobium orchid with black and white flower petals. Only one seed of this orchid will be sold in a pack with five 52-unit boosters. Any seeds given by orchid Maestro before the 3rd of January 2013 will also be Maestro. Maestro won't come as a baby seed of any other plantpet in SL before the 3rd of January 2013. That is, the avatar who gets the first seed at the auction will be able to produce at least 5 seeds of Maestro before anybody else.