Dendrobium Orchids Revamped!

Submitted by
Bruce Liebknecht
on Fri, 11/23/2012 - 18:21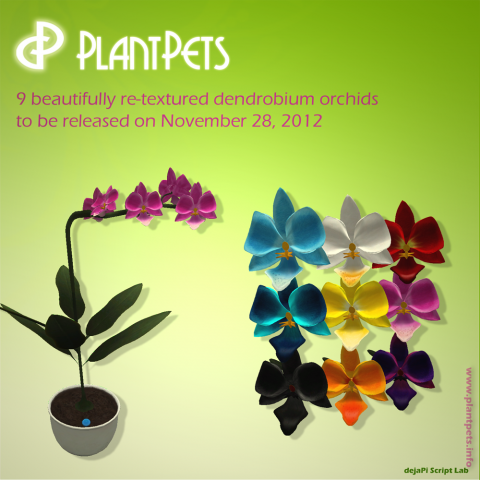 We have been revamping our very old dendrobium orchids. Hernesto Kayo of Zpr created a set of very beautiful new textures to fit our original 3D build of the dendrobium orchid. He has created 9 different colors. On the 28th of November we will release 2 versions of each color: one with 3 stems and a second one with a single stem. That makes 18 new plantpets in total.
With the release of the new dendrobium orchids, the 3 old ones will become limited editions, i.e. while they will still give baby seeds they will never come as seeds of other plantpets.
We have rezzed examples of the old and the new version of the dendrobium orchid in the PlantPets Main Store. Come take a look at the amazing job that Hernesto has done with the textures!
You can follow us on Pinterest http://pinterest.com/dejapi/dendronium-orchids/ for exclusive pictures of last phases of preparation of the new dendrobium orchids for release!