Get Rare Sunflowers with the PlantPets October 2012 Mission!

Submitted by
Bruce Liebknecht
on Sun, 10/07/2012 - 20:14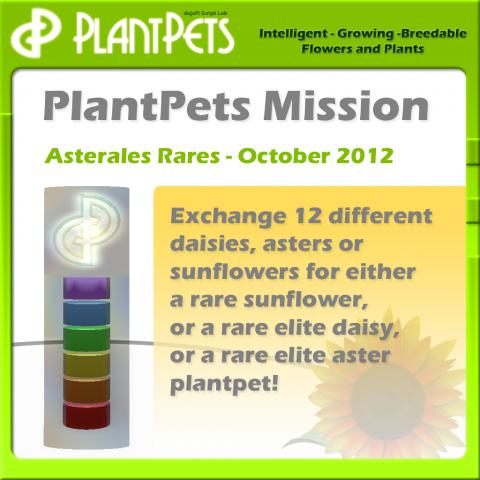 We have just released the October 2012 PlantPets Mission! It will be sold at the PlantPets Main Store until the 22nd of October, 1 pm SLT. The cost of the mission is L$250. It will be 20% off for members of the group PlantPets Premium until the 9th of October, 1 pm SLT and 10% off for members of the same group afterwards. The mission expires at the end of the month and awards can be claimed only until the 31st of October 2012.
This mission gives an opportunity for our most dedicated customers to exchange 12 plantpets with the asterales gene for ONLY one of the following 8 plantpets:
- Sunflower *Ring of Fire*
- Sunflower *Moulin Rouge*
- Sunflower *Moonshadow*
- Aster *Japonica*
- Daisy *Spotty Hawaiian*
- Daisy *Shimmer*
- Daisy *Plaid*
- Daisy *Icicle*
What you need to do is rez the mission and place 12 growing daisies, asters or sunflowers within the circle. All 12 must be DIFFERENT plantpets. Any daisy, aster or a sunflower can be used. Detection may be slow and may take up to 12 minutes. You may speed it up by touching pots and watering plantpets within the circle.
This mission is different from previous PlantPets mission! It will DELETE any detected plantpet. That is, the mission can be used to EXCHANGE 12 plantpets for ONLY 1 rare plantpet. An avatar can complete as many missions as they want.