PlantPets @ RFL Christmas Expo and Winter Breedables Fair 2014

Submitted by
Bruce Liebknecht
on Sun, 11/09/2014 - 17:21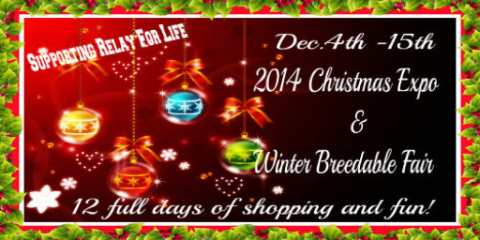 We would like to announce that this year PlantPets will take part in the Winter Breedables Fair at the RFL Christmas Expo as usual. We have been participating every year since the beginning of the breedables fairs three years ago. Below is the official press release from the organisers of the expo.
---------------------------------------------------
The fourth annual Second Life Christmas Expo & Winter Breedable's Fair will be held on December 4 to 15, 2014 and is a mega event that raises funds for Relay For Life of Second Life (RFL of SL). 100% of registration fees, sponsorship fees, kiosk donations, hunt, raffle, auction, and vendor donation items are paid to Relay For Life of Second Life. Relay For Life of Second Life is part of the American Cancer Society and is a virtual version of the real life Relay For Life. You can find more information about RFL of SL here: http://relayforlifeofsecondlife.org/ . We are the only event that supports Relay For Life this season!
We are very excited about the Expo and Breedable Fair this year, and have many, many fun events planned for the entire 10 days of the festival!
We would like to take this opportunity for you to display your items, and become involved in the largest, exclusive Holiday event supporting Relay For Life.
Please visit: http://slchristmasexpo.wordpress.com/ for our merchant guidelines and registration. NOTE: Breedables merchants and creators have a separate section for registration. Follow the links at the top for Breedables!.
Please feel free to contact the following people if you have questions or comments about the Expo or Breedable's Fair:
*Dawnbeam Dreamscape, 2014 Second Life Christmas Expo and Winter Breedable Fair Coordinator
*Jessii2009 Warrhol, 2014 Second Life Christmas Expo & Winter Breedables Fair Co-Coordinator
*Johannes1977 Resident, Merchant & Technical Support
Thank you for your support of Relay For Life of Second Life!
2014 Second Life Christmas Expo and Winter Breedable Fair Planning Committee