PlantPets at SL Christmas Expo 2011

Submitted by
Bruce Liebknecht
on Sat, 12/03/2011 - 17:25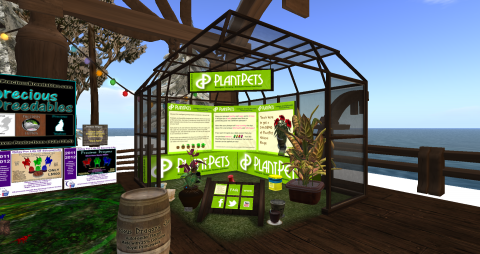 PlantPets are being presented at the SL Christmas Expo within the Breedable Pet Show together with all other major breedables in SL. We are very proud and happy to take part in the Expo which was open to the public today and will continue until Dec 16.
Our stand is a beautiful little greenhouse custom designed by Hernesto Kayo. We uploaded a few more pictures to Flickr which illustrate its construction. At our stand we show the soon to be released Poinsettia plantpet.
Our stand is at the following slurl http://maps.secondlife.com/secondlife/Silver%20Bells/170/13/23. Make sure you check out the Expo and its many events and auctions which are raising money for charity. PlantPets will hold a few Q&A sessions next week and two plantpets (a limited one and a rare one) will be sold on an auction the money from which will be donated to a charity. More info about the Expo is available at http://slchristmasexpo.wordpress.com/.