Xcite!-Compatible Hyacinths

Submitted by
Bruce Liebknecht
on Sat, 10/29/2011 - 19:37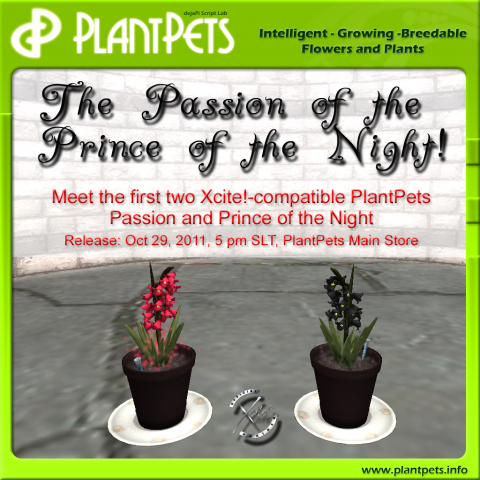 We've just released the first two Xcite!-compatible PlantPets. They are Passion and Prince of the Night - two beautiful hyacinths textured by [Zpr]. They come in a new highly realistic pot designed by [Zpr] as well.
Prince of the Night will become rare a week after the release and Passion will remain a common plantpet. Both can come as babies of other hyacinths. And their baby seeds can be any hyacinth. For the first week of the release both will be sold at the PlantPets Main Store with 20% OFF for PlantPets Premium members.
Xcite!-compatible PlantPets become sensitive only when at least 70% happy. They react when an avatar that wears Xcite! genitalia touches the plant parts. In addition, they scan for avatars wearing Xcite! genitalia around them every 5 min and raise the excitement of the first avatar they find.