The New Hyacinths Have Arrived!

Submitted by
Bruce Liebknecht
on Thu, 08/18/2011 - 18:55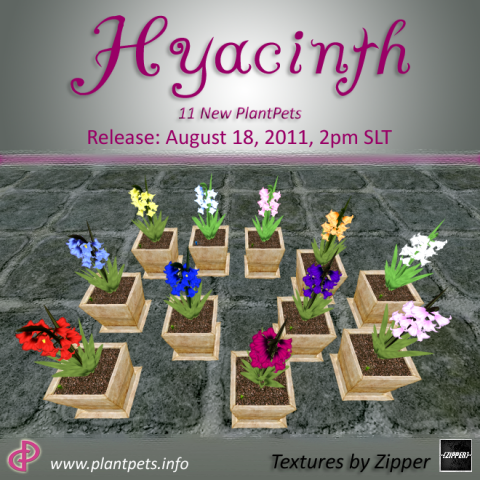 Yes, we have finally released the new hyacinths which have been in production since February. A lot of scripting work earlier this year has postponed the release of the hyacinths but they are finally here! The common ones are sold at the PlantPets Main Store with a discount for members of the group PlantPets Premium (20% off for the first week of the release, and 10% afterwards).
Our original three hyacinth plantpets, while well sculpted, had very basic generic textures and it has been our desire for long time to re-texture them and bring the best out of them. In the beginning of this year, our good friend, the designer of the SL male fashion brand Zipper created new textures, especially designed for our hyacinth with a 3D modeling software. I further played with the colors and the final result are 11 new hyacinth plantpets. They include the new versions of the old Fondant, Delft Blue and Sky Blue hyacinths plus 8 new colors.
If you have any seeds of the old hyacinths they will deliver their new versions when planted. If you have packed them with our Set4Sale system you will have to repack them to see the new poster on the box. When we introduce the recycling system it will become possible to replace your old growing hyacinths with the new ones.
We selected six of the new hyacinths to be common and the other five are rare. Please check our catalog to see which are the rare ones. At the release I also put out for sale 5 seeds of each of the rare hyacinths in the PlantPets Main Store because I really like them and I wanted you to be able to see them ASAP. Most of them are already gone but there are a few still available for purchase.
Now we are almost finished with the summer releases. The last is the new Marigold plantpet. This is the second new species this summer after the succulent Pachyphytum. The marigolds are also very beautiful and we hope to be able to deliver them to you by the middle of September.