New Species Pachyphytum, Chrome Daisies Now Rare

Submitted by
Bruce Liebknecht
on Sun, 08/07/2011 - 08:35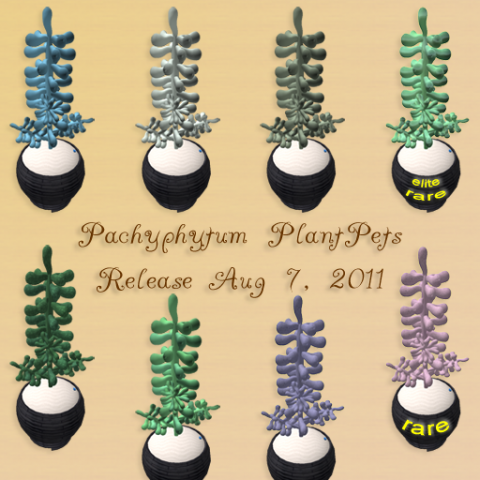 We just released a new PlantPet species Pachyphytum at the special summer price of L$495. The discount for PlantPets Premium members for the first week of the release is 20% and after that it will remain 10%. Next Sunday we will drop the premium discount for the Narcissus plantpets to 10% as well. Hurry up and get yours at 20% off while the offer lasts.
The new species is inspired by the Mexican succulent plant Pachyphytum. There are 8 plants in this group, two of which are rare and one of the rare ones is also elite. Please note that the Pachyphytum plantpets share the succulent gene with our cacti species which makes it possible (but very low probability) to get a cactus baby from a pachyphytum or a pachyphytum baby from a cactus.
With the release of Pachyphytum we promote all chrome series daisies to rare, i.e. they won't be sold at the PlantPets main store from now on.