Set4Sale v1.071

Submitted by
Bruce Liebknecht
on Wed, 06/22/2011 - 16:45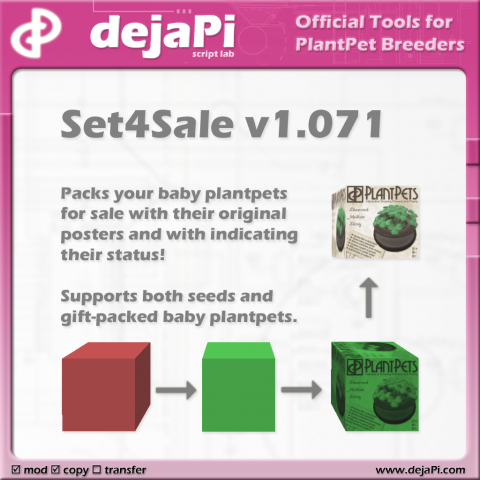 Tomorrow we will publicly release for the first time our Set4Sale system. The system has been around for some time. I gave previous versions free to our subscribers. Tomorrow v1.071 will be put for sale in the PlantPets Main Store.
The purpose of the Set4Sale system is to help people pack a baby plantpet (i.e. either a plantpet seed or a gift-packed plantpet) in a nicely textured box for sale. It consists of a box with a script inside. When you drop your baby plantpet into the box, the script applies the corresponding poster to all sides of the box and prints the status of the plantpet in the floating text.
Version 1.071 is an optional update to 1.06. That is, 1.06 will continue to work fine. The new features in 1.071 are:
- The box becomes full bright when ready to put on the shelf.
- The box can optionally IM its owner when somebody purchases the baby plantpet.
- You can drop a notecard, a landmark and a texture into the box which will be given to the customer together with the baby.
- The system comes with a notecard with instructions for use.