Shift to our own systems for news by IM and more...

Submitted by
Bruce Liebknecht
on Fri, 06/17/2011 - 20:26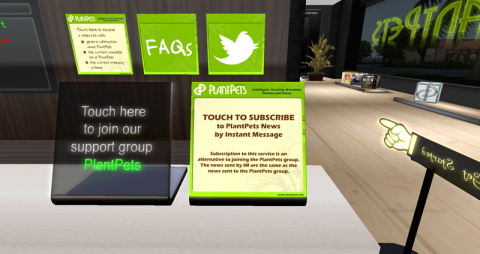 After a lot of testing and tweaking, today PlantPets finally switched from subsribe-o-matic to our own system for news by instant message. Subscribe-o-matic is a fantastic system that works perfectly. However, we have already invested in infrastructure outside SL that can support this sort of service and we also have the expertise to implement it. So, it was about time to make our own thing.
All our subscribe-o-matic subscribers were automatically subscribed to the new service and they were also given a subscription management panel they can use to unsubscribe if decide to do so. There is also a subscription panel in the main store (see the pic) which can be used to subscribe/unsubscribe in the case you have missed the attached control panel. The news by IM are the same news sent to the PlantPets group in SL. If you are member of the group there is really no need to subscribe to the news by IM.
Today I also noticed that I had forgotten to update our 24h Demo PlantPet Vendor after the switch to this website. I fixed it and the update was sent to the groups and all subscribers. If you missed it for some reason you can also find it at the reception desk in the PlantPets Main Store free of charge.
The tools for plantpet breeders I've been making are given away now free of charge for limited time only. I'm planning a room on the 2nd floor in the main store where we will be selling tools for plantpet breeders. They will be discounted for the premium group.