New Poinsettias and Christmas Raffle

Submitted by
Bruce Liebknecht
on Sat, 12/20/2014 - 12:03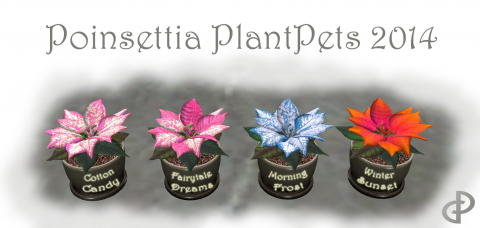 PlantPets would like to wish all PlantPet breeders Happy Holidays! To celebrate this holiday season we are releasing four new rare poinsettia plantpets. They are available for purchase for L$350 each in the PlantPets Main Store. We also put out vendors with all seasonal Christmas plantpets in the PlantPets Main Store.
The four new poinsettia plantpets and all other seasonal Christmas plantpets will be available for sale in the PlantPets Main Store until the 29th of December. All of them are 20% off for members of the group PlantPets Premium when they wear their group tag.
Starting from now until the 10 am on the 22nd of December we will be running a PlantPets Christmas Raffle in the PlantPets Main Store. An award will be given every hour to a randomly picked avatar who is in the store at the moment of giving the award. The awards will be randomly picked from all Christmas-themed plantpets.